Topics on this page
---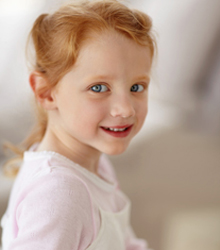 Dental Radiographs (X-Rays)
Radiographs (X-Rays) are a vital and necessary part of your child's dental diagnostic process. Without them, certain dental conditions can and will be missed.
Radiographs detect much more than cavities. For example, radiographs may be needed to survey erupting teeth, diagnose bone diseases, evaluate the results of an injury, or plan orthodontic treatment. Radiographs allow dentists to diagnose and treat health conditions that cannot be detected during a clinical examination. If dental problems are found and treated early, dental care is more comfortable for your child and more affordable for you.
The American Academy of Pediatric Dentistry recommends radiographs and examinations every six months for children with a high risk of tooth decay. On average, most pediatric dentists request radiographs approximately once a year. Approximately every 3 years, it is a good idea to obtain a complete set of radiographs, either a panoramic and bitewings or periapicals and bitewings.
Pediatric dentists are particularly careful to minimize the exposure of their patients to radiation. With contemporary safeguards, the amount of radiation received in a dental X-ray examination is extremely small. The risk is negligible. In fact, the dental radiographs represent a far smaller risk than an undetected and untreated dental problem. Lead body aprons and shields will protect your child. Today's equipment filters out unnecessary x-rays and restricts the x-ray beam to the area of interest. High-speed film and proper shielding assure that your child receives a minimal amount of radiation exposure.
Fluoride
Fluoride is a naturally occurring element, which has shown to prevent tooth decay by as much as 50-70%, Despite the advantages, too little or too much fluoride can be detrimental to the teeth. With little or no fluoride, the teeth aren't strengthened to help them resist cavities. Excessive fluoride ingestion by young children can lead to dental fluorosis, which is typically a chalky white discoloration (brown in advanced cases) of the permanent teeth. Be sure to follow your pediatric dentist's instructions on suggested fluoride use and possible supplements, if needed.
You can help by using a fluoride toothpaste and only a smear of toothpaste (the size of a grain of rice) to brush the teeth of a child less than 3 years of age. For children 3 to 6 years old, use a "pea-size" amount of toothpaste and perform or assist your child's toothbrushing. Remember that young children do not have the ability to brush their teeth effectively on their own. Children should spit out and not swallow excess toothpaste after brushing, in order to avoid fluorosis.
Sealants
A sealant is a protective coating that is applied to the chewing surfaces (grooves) of the back teeth (premolars and molars), where four out of five cavities in children are found. This sealant acts as a barrier to food, plaque and acid, thus protecting the decay-prone areas of the teeth.
Mouth Guards
When a child begins to participate in recreational activities and organized sports, injuries can occur. A properly fitted mouth guard, or mouth protector, is an important piece of athletic gear that can help protect your child's smile, and should be used during any activity that could result in a blow to the face or mouth.
Mouth guards help prevent broken teeth, and injuries to the lips, tongue, face or jaw. A properly fitted mouth guard will stay in place while your child is wearing it, making it easy for them to talk and breathe.
Ask your pediatric dentist about custom and store-bought mouth protectors.
Pulp Therapy
The pulp of a tooth is the inner, central core of the tooth. The pulp contains nerves, blood vessels, connective tissue and reparative cells. The purpose of pulp therapy in Pediatric Dentistry is to maintain the vitality of the affected tooth (so the tooth is not lost).
Dental caries (cavities) and traumatic injury are the main reasons for a tooth to require pulp therapy. Pulp therapy is often referred to as a "nerve treatment", "children's root canal", "pulpectomy" or "pulpotomy". The two common forms of pulp therapy in children's teeth are the pulpotomy and pulpectomy.
A pulpotomy removes the diseased pulp tissue within the crown portion of the tooth. Next, an agent is placed to prevent bacterial growth and to calm the remaining nerve tissue. This is followed by a final restoration (usually a stainless steel crown).
A pulpectomy is required when the entire pulp is involved (into the root canal(s) of the tooth). During this treatment, the diseased pulp tissue is completely removed from both the crown and root. The canals are cleansed, disinfected and, in the case of primary teeth, filled with a resorbable material. Then, a final restoration is placed. A permanent tooth would be filled with a non-resorbing material.